Order your personal Bergerac-T-Shirt, Basecap, and so on here. Please have a look.



Our trip to Jersey from June 14 to June 22, 2008
Sunday, June 15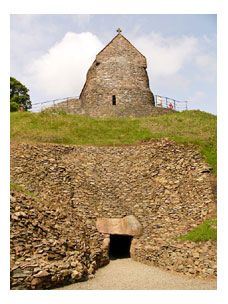 It's our 2nd day on the island, and today we have a plan. We decide to drive to the Neolithic burial site of "La Hougue Bie" which is north of Jersey's capital St. Helier and is said to be, according to Baedeker travel guide, the Channel Island's only important sight. The passage tomb was built in 3,500 B.C. underneath a high mound on which a split chapel was erected. Since the entrance of the passage tomb is only about 1,20m, tall people can only enter the tomb by stooping. The construction is equipped with a museum and various, very interesting exhibits which are outside the actual passage tomb. For £27 each you can buy something like a London-pass. By paying for a ticket once, you are allowed to enter many different sights of Jersey Heritage Trust (e.g. La Hougue Bie, Elizabeth Castle, Gorey Castle, Occupation Tapestry, Maritim Museum, and Hamptonne Country Life Museum) – still not exactly inexpensive, but yet cheaper than buying each ticket individually.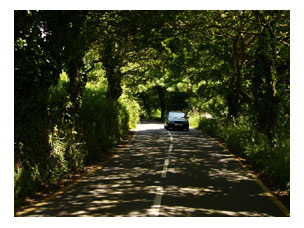 Jersey's streets are idyllic, but very narrow. The so-called Green Lanes are even narrower, sometimes they might only be 2 to 2,5 meters wide. Pedestrians and cyclists have the right of way, but I wouldn't recommend a bike tour anyway. There is simply to much traffic and too little openness. The picture shows a rather wider road.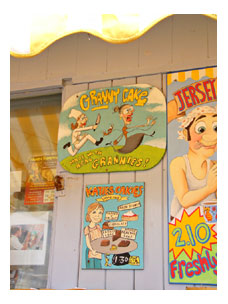 We decide to have our lunch at "The Hungry Man" on Rozel Bay, a praised fast food stall with its own real local flavor. As you can see in the picture, there weren't many people ordering food, and yet we had to wait 70 minutes!!! for our burger to be done. Older people should watch out – look at the picture.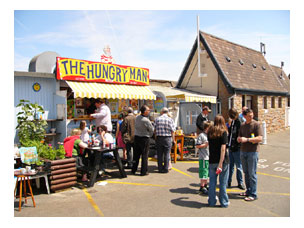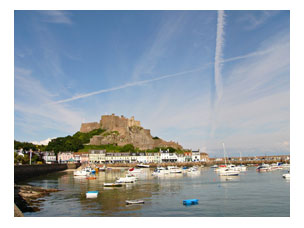 In the afternoon, we made a quick trip to Gorey – the scenery made of the harbour and Gorey Castle is simply breathtaking. If you want to view the fortress very thoroughly, you need more time, so that's why we decided to postpone it till the next day.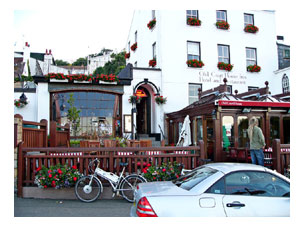 We had a walk in St. Aubin's harbour and coincidentally found a place which used to be a setting for Jim Bergerac quite often. It's "Lils Barge" (show in Google-Earth / KMZ-file) which can be recognized by the window which looks like the stern of an old sailing ship. In "Lils Barge", Jim Bergerac often met with his several girl friends or with his boss or colleagues. By the way, the real "Lils Barge" is called "Old Court House Inn".