Order your personal Bergerac-T-Shirt, Basecap, and so on here. Please have a look.



Our trip to Jersey from June 14 to June 22, 2008
Saturday, June 14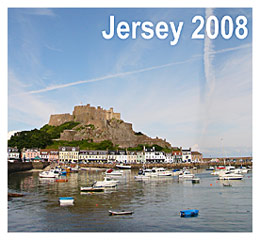 Here we go. Getting up at 4:30 a.m., having a cup of coffee, getting things in the car and off we go to Berlin-Schoenefeld Airport. "Park-and-Ride" car parks are great since they are for free most of the times, but they might be as well just be in the sticks so that no one can really want to leave their car at those car parks. But what else can we do? Car parks at the airport are too expensive and we only have a couple of minutes left to get on the suburban metro railway to the airport.

But what's that? The light is still turned on at one of the cars next to us and condensation indicates that the car has been standing there for quite some time. Maybe the owner only forgot to lock their car? Have a look or not? Or maybe someone tried to break into the car? Better not touch anything, otherwise people might think we wanted to break into the car. But look, two police men are passing by just at that moment, we tell them what we saw and they check on the car. Door is locked, they just forgot to turn off the lights. We haven't taken off yet, but already have a lot to tell our friends when we come back.

Then we finally go to the airport by metro railway. All these carrying of heavy baggage. My shoulder trap breaks after the first 100 meters, and when we finally arrive at the check-in, we have to wait for hours just to find out that our pieces of luggage are charged extra £15 each. To make matters worse, we have to pay for our luggage at an extra desk which seems too far away for us with our luggage. When we arrive at the other desk, we are politely informed that our bag packs are considered to be bulky luggage due to all their extra stripes. Now that our bag packs are bulky luggage, we have to check in our luggage at a third extra desk. Great! When we arrive in London, we only have one hour to get on our connecting flight. Great expectations. Luckily we arrive in London 20 minutes ahead of scheduled time which gives us plenty of time to get on the second plane.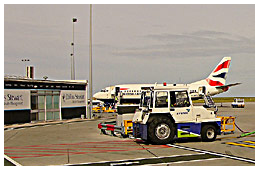 Now we only need to cross the Channel and then we finally arrive on Jersey on late morning. The airport is very, very clearly structured (to put it politely). We are well informed at the rental station, prices are comparatively low and diesel is already included. Let's go then and explore the island. Driving on the left is not as difficult as expected, it's rather difficult to sit on the right, to change gear with the left and to try hard not to crash into other cars on these very narrow streets. Luckily, locals are quite nice to tourists who are clearly marked with an "H" on their license plates.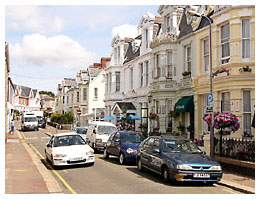 Yet, it's harder than we thought to find our guesthouse and parking spaces in front of it are even harder to find. After going round the apartment blocks over and over again (while finding our home for the next days at the same time), we find enough parking space for our little Fiesta.

All we want to do now is to get our luggage up to our room and see the sea. Since the room is not ready yet, we change plans and go to see the sea immediately. "Havre du Pas" is just around the corner. At the moment is low tide, but it's quite fascinating to see the changes in the tide turns.

The center of town isn't far away so that we decide to take a look at it on our first day. Weather is sunny and hot and we find Royal Square, a shady place to rest and look at a golden statue of George II which I had only seen recently - in the first episode of Jim Bergerac. There are many nice cafes and pubs in which you can sit outside and enjoy the afternoon. We decide to try "Cock&Bottle" and are very pleased.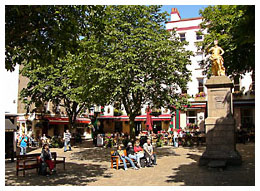 But now we want to see our room. Again, another surprise (as if we hadn't have enough today). Our parking lot wasn't a parking lot, so the State of Jersey would like to have £30 for parking on a yellow line. Later we find out that no-parking zones are announced by no-parking signs, but by yellow lines on the road which are nearly everywhere to find. The room is rather plushy, but we expected that. It somehow reminds us of Sherlock Holmes and long-gone times. After a smalltalk with an elderly couple in which every second word seems to be "wonderfully" or "lovely", we put all of our stuff in our room and decide to go to the North coast.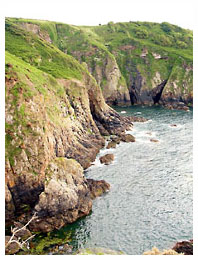 Our rental car has to be used and we have to start somewhere with our Jim Bergerac discovery tour. We drive to "La Bonne Nuit Bay" and again streets are very narrow and show an incredible steep gradient. At our destination, we find a wonderful mole and many kids jumping from a wall down in the harbor basin. Only a couple of meters next to them, their dads are fishing. I spot a sunk boat between all those boats being tight to the landing stage. We also find the "Bonne Nuit Bay Café" which can be often seen as backdrops in Jim Bergerac episodes. While looking at all these wonderful sceneries, we plan our next days and the tours we want to make. Due to a lack in our finances, we skip coffee and head on to Devil's Hole.

The steep bank is quite impressive - have a look at the very top of this site - but the cave can only be seen partly due to the high tide.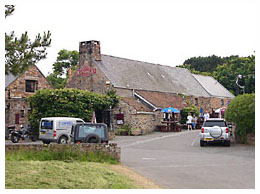 We have our diner at "La Fontaine" in St. John which is not only a pub with a real local flavour, but also offers a relatively inexpensive, but very good meal.



next day