Order your personal Bergerac-T-Shirt, Basecap, and so on here. Please have a look.



Our trip to Jersey from June 14 to June 22, 2008
Monday, June 16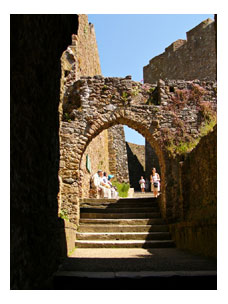 Right after breakfast we went to see Gorey Castle. Entrance is £9,30, but as already mentioned, we bought a special ticket in which Gorey Castle is included. The Castle is truly impressive and I highly recommend a tour through the castle because it needs some time to get around.

During the German occupation in WWII, German bunker constructions were even built on top of this historical building. When visiting the Castle, donít forget to enjoy the wonderful view over Goreyís harbour.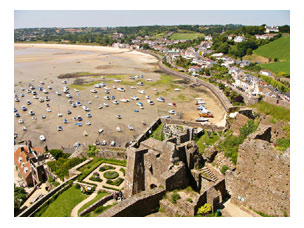 After a tour through Gorey Castle, which lasted 2 hours, we visit Jersey Pottery which is in Gorey, too. Unfortunately, our expectations were disappointed. There isnít anything interesting to see but a huge sales room and a production hall which was empty when we visited it.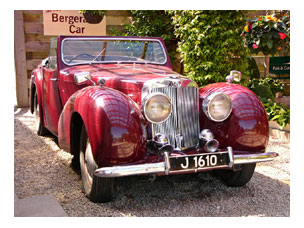 We read on the internet that Jim Bergeracís claret Triumph Roadster can be seen somewhere in the middle of the island. We would like to thank Angela and Torsten Schlegel from Hermsdorf / Thuringia for their tips for trips on the island.

After more researches, we found out that the place we were looking for is called Jersey Goldsmiths, Lion Park (show in Google-Earth / KMZ file). This is where expensive souvenirs such as pearls and gold jewellery are sold. Here you can see an original "James Bond 007 - Goldfinger" Austin Martin, including machine gun under the spotlights.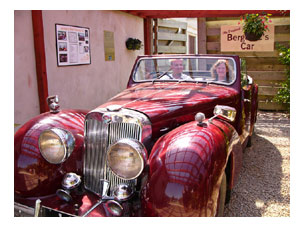 Obviously, Bergerac isnít that important anymore than he used to be because the car, which used to be presented in the inside of the building, can now be located in a corner covered by a carport. Allegedly, the car is one of the original ones being used for the series and it is said that there were at least two of them.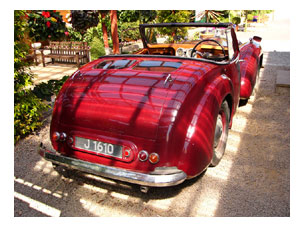 The Triumphís condition which can be spotted from the outside is not too well. Yet, itís no problem to take a seat in the car to take a picture which is one of the highlights of our holidays. The greater part of the tourists coming to this place is obviously more interested in the oversized big cats which are made of various blooms of grass.



We keep going on our trip over the island after we are done taking photos of Bergeracís Triumph. We head to Jersey War Tunnels which is an underground hospital built by people sentenced to hard labour during the time of occupation. The construction is much bigger than we expected it to be. Not only is it chilly because of the atmosphere created by the museum, but also because of the microclimate underneath the earth. Donít forget to bring a jacket with you when visiting. The events which tool place 70 years ago are presented in a very interesting way. When entering the museum, you get a copy of an identity card of a real existing person during the time of occupation. When going through the museum, you then discover what happened to this person.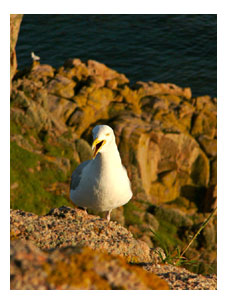 Now we keep going to St. Brelades bay and to Corbiere Point at the south-west of Jersey. Corbiere Point is home of Corbiere Lighthouse. And once again we find many reminders of the occupation time which can be found nearly everywhere at the coast. At Corbiere, we took the photo of the sea gull.